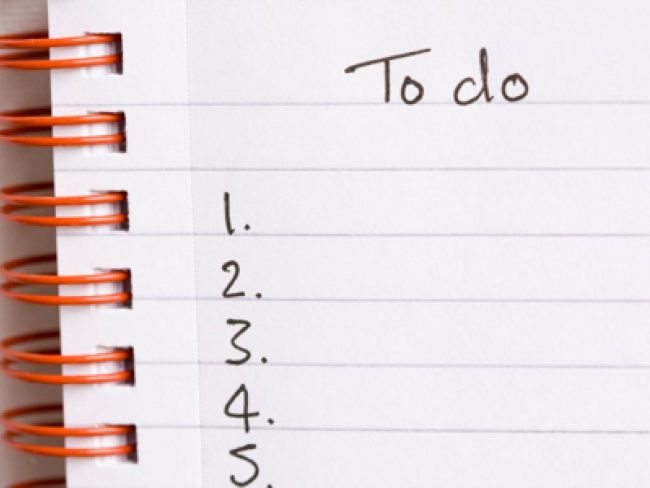 We all love a good list. Do the cleaning, pay the gas bill, buy shampoo, fix the door handle, phone parents. Before you know it, the list is as long as your arm. It becomes overwhelming and so we usually end up not doing anything and our lives feel out of control.
Here's a hint from expert Jeff Herring, courtesy of Stylist, on how to tackle that to-do list and make it manageable.
Write down all the things you need to do in a column on the left hand side of a piece of paper.
On the right, action them using the 4 Ds. For each item, be honest with yourself and decide to either:
Do It (the same day)
Delay It (to a specific time in your diary)
Delegate It (ask a friend, family member, your partner)
Dump It (get rid of it if you know you will never do it)
This approach can also work in the office too.
By freeing up the small tasks you start to make room for the bigger goals e.g. career, fitness.
Now, the hoovering is on my list and I said I'd Do It today... shame I can't delegate that to anyone hey!
Recent Articles:
Categories:
I approached coaching with a fairly clear objective that I'd been contemplating for years. Thanks to Alice's structured exercises, facilitative discussion and encouragement I've made the first tentative steps towards achieving this goal. However, I didn't expect the bonus extras which I think may be unique to Alice's coaching style, providing insights on what has blocked me in the past, the behaviours and attitudes that may have held me back, plus practical guidance for tackling these unhelpful traits in future, equipping me to be my own mini-life coach! I have already recommended Alice to several friends, and I look forward to working with her again.
Medical Publishing