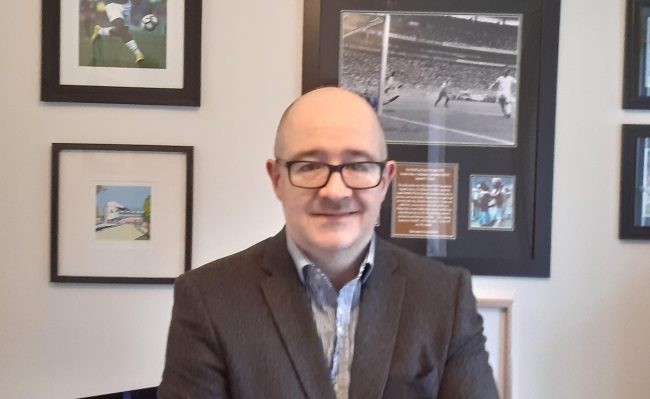 This week, as part of my ongoing Career-Changer series, I had the pleasure of interviewing Gareth Thomas about his inspiring journey from management in the construction industry to becoming a Football Agent, with clients in the Premier League. Feeling disillusioned and unhappy in his career, a coincidental moment led to Gareth pursuing an enjoyable career in the football industry - a world he'd passionately lived and breathed since childhood.
These interviews seek to share wisdom and advice from those who have taken the brave step of changing career, in the hope of inspiring, encouraging, and supporting those contemplating a career change to do the same.

1. What work were you doing before you changed career?

Having left university without a clear plan of what I wanted to do, I found my first job working in the construction industry with an SME in Manchester. I progressed from there and remained within the industry for approximately 17 years, holding senior commercial management roles for a significant period of that time. The roles were wide ranging: from reviewing and negotiating detailed contracts to commercially managing large projects and their budget with revenues of up to £60m per annum.
2. How did you know a change was required?
​I wasn't happy in my role and hadn't been for a while. I had become disillusioned, and it was now having an impact on my mental health. I knew I had to make a change to something in my life but I wasn't quite sure what that should be. I was working away from home a lot, and when I wasn't, I was invariably locked away in my office working. Something had to change.

3. What helped you make the decision to finally do something about your situation?
I was experiencing a difficult period with work and found myself working on a project that I hadn't requested to be on, nor had I really been consulted. I was probably feeling a little trapped career wise at the time. I had good experience but felt as though I had probably 'pigeon-holed' myself to a certain extent.
When I reflected on my situation, I realised that I needed to start to take control of my own destiny. At this point, I had established that I would like to work in another industry, and ideally that would be in football, but I had absolutely no idea how I could make that change.
4. How did you go about deciding what you wanted to do next/instead? What helped you make that decision?
As stated earlier, I had found myself in a period when I was spending a period of time away from home with work, and working on a project that I felt I had been pushed into. I reaslised I needed a change. I wanted to find something that I looked forward to doing - not something I had constant worries and concerns over. That thing had to be football, but at the same time I also realised that a large proportion of the population would say the same thing, and doing so would be extremely difficult.
I lived and breathed the sport - when I had been younger, I had produced match reports for a national non-league magazine, and was a finalist on Granada TV's Soccer Brain back in 2001 - I would jump at the chance at doing anything related to the sport.
One morning, I was at breakfast in a hotel close to the office I had been working in, and, whilst waiting to be served, I read an article about a Football Agents' (Intermediary) course, which had been set up and developed by an established Agent. The more I thought about it, the more I was convinced that I had the transferable skills to be successful in the field e.g. contract / legal experience, negotiations, commercial knowledge, etc.
I quite liked the look of the course, but, at the back of my mind, I thought, "Can I actually trust a Football Agent?", and, as a result, I decided not to progress with it.

Then, in a rather bizarre chain of events, approximately 6 weeks later, I received a phone call from my Father-In-Law who had been playing golf. He told me how he had been playing with a friend who had invited another player to join them. That extra player happened to be a Football Agent. He then proceeded to tell me that this Agent had just set up his own course and that I should take a look......it was the very same Agent I had been reading about 6 weeks earlier!
Through my Father-In-Law, we were introduced and spoke on the phone, and I subsequently joined the course, and never looked back. The course itself, and support received thereafter, was excellent for me, and gave me the belief that it was possible to progress in the respective field.
5. What new career path have you chosen, and why?
​After completing the course, I realised that my skills where transferable and complimented the role of a Football Agent. I registered with the Football Association as an Intermediary (Agent) and set up my own football agency, UK Sports Management Limited.

6. How are you going about, or how did you go about changing careers?
It had to be a gradual approach, and it hasn't been easy. Being a father of three, I have been very conscious that I have responsibilities that I need to fulfil. Due to my background in construction, I was able to work as a freelance consultant at times to ensure that I had a sustainable business. To do both has been hard - starting at 5am to work for a few hours on the football side before starting to concentrate on freelance work, before dropping back into football until late at night, was extremely tiring.
7. What's been the hardest, most challenging, or unexpected thing you've encountered about changing career?
​I think the hardest thing has been working on my own. I am used to working with other people and being able to bounce ideas off others. Not having that probably makes me a little more self-critical than I previously had been.
I think the most unexpected thing for me was to be involved in my first Premier League transfer. For somebody who had wanted to be part of the game for so long, it didn't matter how long I had planned for it, it was still hugely unexpected. I think in the back of my mind I was half expecting the deal to collapse, even as the players medical was being concluded and final paperwork being signed.
I was working on my own and that was hard. I had nobody else in my business to turn to and run ideas past - "Should I do this? Should I do that?" My client was a young player and was really excited about the opportunity. I didn't want to let him down - that was my biggest concern.
8. What's been the best part about changing career?
Working in an industry that has always fascinated me is significant, and to enjoy what you are doing is a huge thing for me.
The role also enables me to meet (albeit remotely at the moment) some great people.
I also take great pleasure in collaborating and working closely with people who have common goals and objectives. For me, working with these kinds of people pushes you even more to work at the best of your abilities. Whether it be clients or colleagues, I want to do my best for them.
9. What advice would you give to others considering or going through a career change?
Understanding your subject matter is vitally important. Invest in education where you can - the course and support I received thereafter was vital in giving me both the tools and confidence I needed to press ahead. Regardless of whichever industry you work in, it is likely to be competitive - you need to be able to demonstrate and communicate your understanding of the industry. It will be very difficult to be successful in your chosen field if you haven't taken the time to fully understand it.
Don't give up! It is easy to think that something isn't possible or not going to happen, but sometimes things materialise when you least expect it.
Lastly, I also think it is really important to do the right thing. A good reputation is so very important regardless of the industry you work in.
10. What support, help, or resources would you recommend?

For me, I was fortunate to have found the right course for me and couldn't recommend the one I joined enough. It gave me a good introduction into the football industry and the confidence to press ahead.
I always remind myself that 'Rome wasn't built in a day'. Don't run before you can walk - make sure you put all the building blocks in place first.
I also think it is really important to find people that are already experienced within the industry to act as a mentor or be able to bounce ideas off.
I would recommend that you invest in your business and/or yourself in whatever way suits your needs. It was really important for me to educate myself prior to registering with the FA, but, once operating, investing in technology through scouting and data analysis systems has been just as valuable for me.
----
If you're considering a career change of your own, and Gareth's story has inspired you to finally take action, get in touch to discuss how working with Alice could help you figure out what you want to do instead, and how you can make it a reality.