Your Career Questions answered on BBC News Live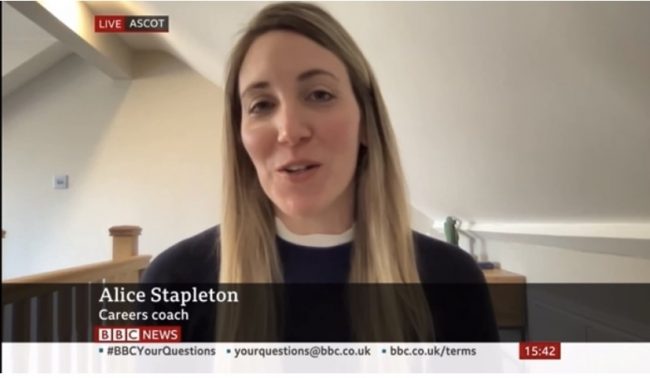 On Monday, I was asked to join Simon McCoy on BBC News Live to answer questions from viewers struggling to find work during the Pandemic. I answered questions relating to CVs and interviews, offering advice and tips along the way.
You can view the clip on my YouTube channel here.
As you can imagine, it was a real career highlight!
Recent Articles:
Categories:
I first contacted Alice at a time when I was feeling very low about my work and desperate to make a change. Alice listened closely to my needs and tailored our sessions to the specific challenges I was facing. She was quick to follow up after our sessions, to reflect on what I'd said, and to give me further exercises which would help with my development. Alice really helped me to build my confidence to think logically through potential risks of leaving a job and of moving into a new sector, which I did and where I have just started my first job. I have recommended Alice to many friends and friends of friends who I hope will benefit from her coaching as much as I have.
Editorial Assistant (previously an EA)