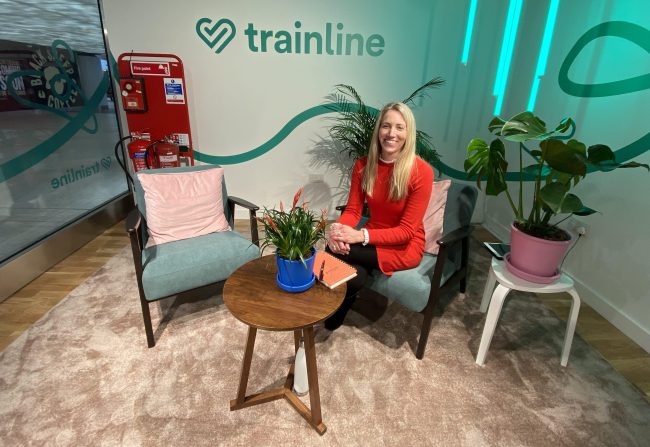 Last week, I was delighted to be the resident Career Coach at The Interview Store - a fantastic new pop-up store within Waterloo Station providing visitors with a free interview outfit and interview coaching. The store was launched by Trainline in response to research findings that the majority (53%) of Gen-Z say they're finding it difficult to get on the career ladder, as the average cost of attending interviews has reached over £100.
Trainline surveyed 2,000 adults from across the UK and found that, despite only 39% of Brits being satisfied in their current role, just 32% plan to look for a new job in 2023, with 8% citing the cost of the recruitment process as preventing them from moving.
The Interview Store was particularly helpful for Gen-Z seeking to kickstart their careers, with the research showing 64% of them are actively looking for a new job. Indeed, while the average Brit goes through the recruitment process every 4 years, this drops dramatically to just 14 months for 16-24-year-olds motivated to climb the career ladder. Although 45% say the rising cost-of-living has made them more stressed, 82% of Gen-Z still feel under pressure to purchase new clothes for job interviews because the majority (53%) believe wearing an outfit they're not happy with negatively impacts their performance. In contrast, 49% feel more confident and prepared when dressed in a new outfit. So, that's a lot of money to spend on interview clothes if you're attending one every 14 months! Hence The Interview Store could provide a free outfit for those looking to spruce things up a bit.
I was asked to provide interview coaching for those attending The Interview Store following results that three-quarters (73%) of Brits admit that they find the interview process stressful. A third (34%) say they get nervous because they fear there will be an intimidating interviewer, while a quarter say they suffer from confidence issues (25%) or find it difficult to talk about their experience (23%). Meanwhile, a fifth (19%) of 18-24-year-olds worry that they're under-qualified for the job.
It was therefore really rewarding to speak to those that came to the store about how they were feeling about their upcoming interviews. One was quite anxious because, in the past, their mind had gone blank mid-interview, and they hadn't been able to present themselves in the best way possible because of their nerves. We discussed how the use of apps like Calm and Headspace before the interview could help ease these nerves, as well as seeing the interview as a simple two-way conversation between human beings about a role you're curious about, as opposed to something stressful to be feared greatly.
In addition, Trainline's research found a fifth (22%) of Brits admit they don't know how they should dress for a job interview, leading two out of five (42%) to stress that they don't have anything suitable to wear. The research highlighted the confusion with three out of five (57%) thinking you should wear the most formal version of how you would expect to dress if you were to get the job, while two out of five (42%) believe you can dress more casually for interviews nowadays. A third (33%) of Gen-Z think wearing a suit to an interview is outdated, and half (47%) believe buying a new suit for an interview would be a waste of money.
As a result, it was brilliant to be able to speak to those choosing an outfit from the store about the above concerns. My 'motto' has always been to dress 'one level up' from what you think you'd usually wear in that role, so it's interesting to read the above findings and beliefs on this. I suggested to one attendee at the store that it can be helpful to research online the culture and environment of a company to get a steer on what might be most appropriate to wear to an interview. A suit may well seem out of place in some offices, but certainly not in others. Try and gauge this beforehand, if you can.
Interview Tips
In this blog post, I also wanted to pass on some of the additional interview tips that I shared with those who attended The Interview Store, as it struck me that they were probably common concerns that a lot of people have about interviews:
It's OK and acceptable to have gaps on your CV. If you're worried they'll be asked about in an interview, practice what you want to say in response to questions about the breaks you took. How did you spend the time? What did you learn from it? Are the reasons for the break still relevant?


It's normal to be nervous before and in an interview. Give yourself lots of time to travel to an in-person interview, arriving ten minutes early so you're not flustered. Avoid caffeine! Whether it's in-person or virtual, it can be super helpful to do a breathing exercise beforehand to calm down the nervous system. 'Box breathing' is a pretty simple one to do - breathe in for four seconds, hold for four seconds, breathe out for four seconds, hold for four seconds, and repeat for five minutes.


Use the STAR method to answer 'Tell me about a time when…' questions. This structure can stop the tendency we all have to ramble on and get lost in our answers.


If you're struggling to secure an interview, double check that each application you are making is specific and bespoke to the job you are applying for. You're unlikely to secure an interview if you send the same CV off for a number of different jobs; each one needs to be tailored to the role you want.
In conclusion, it was a pleasure to coach those that attended The Interview Store, and answer the career questions they had about the interview process to help put them at ease. With the average interview now costing over £100 to attend, it was great to help people get to a point where they felt prepared for their interview, comfortable in what they were going to wear, as well as confident and calm enough to make the most out of the interview opportunity they had coming up.
Thank you Trainline for inviting me to take part. I do hope those that attended were successful in securing the jobs they were being interviewed for!