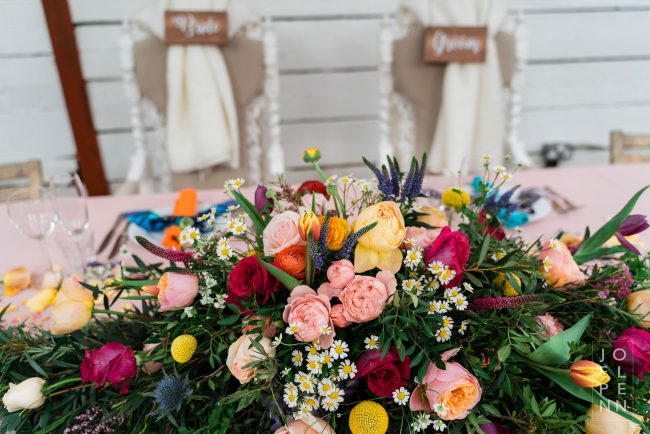 As part of my ongoing Career-Changer series, I spoke to the career-shifter (and dear friend) Jemma Khan about her courageous journey from being a Recruitment Consultant, to starting a whole new career, and her own business, as a Florist. These interviews seek to share wisdom and advice from those who have changed career, in order to inspire those wishing to do the same.
1. What work were you doing before?
I worked as an IT recruitment consultant for nearly 15 years.
2. How did you know a change was required?
I was never entirely happy with what I was doing, but I was quite good at it, and, financially, it worked. However, when I had my first child, it was quickly apparent I couldn't juggle a successful career and be the sort of Mum I wanted to be. Recruitment is full on, long hours and sales driven; I just didn't have the same motivation when I returned to work after my Maternity Leave.
3. What helped you make the decision to finally do something about your situation?
I was managed out from my role in recruitment. I spent some time at home, and helped my husband with his recruitment business. I always wanted to do something creative, and floristry just stood out to me. The timing felt right to explore other interests, and what a different career could look like away from recruitment.
4. How did you go about deciding what you wanted to do next/instead? What helped you make that decision?
I did not like or enjoy not working and being a stay at home Mum. I also realised that I hated working in an office; it felt like prison to me. I grew up on a farm, and love nature and being outside. I also realised over time that I was better at jobs where I was working with my hands. I took the time to explore what I might want to do instead, even considering a business related to my passion for cooking. However, trying out floristry made me realise I preferred that line of work.
5. What new career path have you chosen, and why?
I have now set myself up as a Wedding Florist. It seemed to combine my love of nature, and all things pretty, plus it was practical and beautiful. I have a lot to learn still, but I do think I have a good eye for it.
6. How are you going about or how did you go about changing careers?
I went back to college locally and completed my level 1&2 Floristry. I also helped in a florist's shop once a week. I then started out by doing my first weddings for friends and family, but being paid, which felt like a great first step. Those opportunities gave me some fantastic photos to use for my website and work portfolio too. Since then, slowly but surely (when my two boys allow!), I've created my business by designing my own website and utilising Social Media to spread the word in my local area. Covid-19 was unfortunate timing, as weddings were cancelled, just as I had my brand ready to launch more formally. However, it gave me a great opportunity to pivot my services slightly, creating a local, doorstep bouquet offering, which has been well received. With small weddings now allowed, I'm hoping normal business will start to resume. It's a bit of a waiting game at the moment.
7. What's been the hardest, most difficult, or unexpected thing you've encountered about changing career?
Confidence, and the fear of getting it 'wrong'. I think my own self beliefs have made it slower for me to get things going, as I'm scared of failing. That, or people not liking my work. Oh, and the ability to earn money; quite an important but hard one!
I work on managing these fears every day, but I'm trying to not let them hold me back anymore. Progress is more important to me at the moment than absolute perfection, which I'm starting to realise is impossible to achieve anyway!
8. What's been the best part about changing career?
The freedom and flexibility compared to the career I was previously in. It's so nice being able to manage my own time, and to be able to fit my work around my family. It's been great learning new things, and I'm enjoying the process of learning to accept and welcome change too.
9. What advice would you give to others considering a career change?
If you have the opportunity to make a change, you've got to at least try and go for it. Start something as a hobby and see how you go. I do believe if you love doing something then it ends up shining through. Accept that it can take time, and won't happen overnight - I'm still working on this one!
10. What support, help, or resources would you recommend?
Look at your local college and see what night courses they offer. Just meeting like-minded people can spur you on, so start to build your network. Also, research educational and business grants; I think there is a lot out there for those wanting to start their own business that we often don't know about.
————
If you're considering a career change of your own, and Jemma's story has inspired you to finally take action, get in touch to discuss how working with Alice could help you figure out what you want to do instead, and how you can make it a reality.