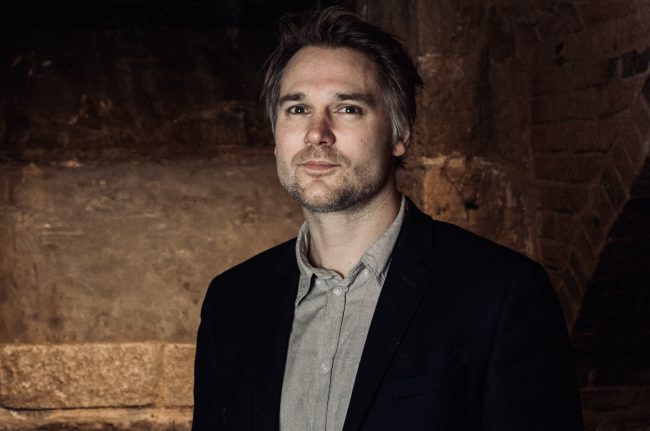 As part of my ongoing Career-Changer series, I was delighted to reconnect with an old school friend, who I spotted from LinkedIn had changed career and started his own fine wine business. As you know, I love a good career change story, so I reached out for an interview.
So, today I share with you Edd Simpson's journey, from musician, to teacher, to starting his own business in the wine industry.

These interviews seek to share wisdom, insights, and practical advice from those who have taken the brave step of changing career (twice in Edd's case!), with the hope of encouraging, inspiring, and supporting those contemplating a career change to do the same.
1. What work were you doing before you changed career?
Funnily enough, I've had a couple of career changes in my life. Post-university I was playing music in a band for 10 years, trying to make a sustainable career from that. I loved every minute, but eventually it was clear that financially it was not going to be sustainable.
I decided to go into teaching, which is what I was doing prior to moving into the wine trade. I was a secondary school teacher, heading up a Religious Education and Philosophy department.
2. How did you know a change was required?
Quite simply, I wasn't enjoying teaching. It always felt like a job, rather than a passion. Something I felt capable of doing but not something I was driven to do. Having taught in a few schools in London (including one in Tower Hamlets, which was incredibly challenging), I moved to a very good secondary school in York. I spent 18 months there as Head of Department. The school had a phenomenal reputation, and everything on paper was great, but I really wasn't enjoying going to work. It was, more often than not, more of a chore than a pleasure. It was over this period that I knew that spending the rest of my working life in the teaching profession was something I couldn't see myself doing.
3. What helped you make the decision to finally do something about your situation?
I had numerous conversations with my wife and family about the fact that I wasn't happy and wanted a change. Their support and encouragement was invaluable.
The decision was made because I'd completed the first year at one of the top secondary schools in the country, my department had a successful set of results, and I still didn't want to be there. I think when moving to that school, I thought that it would be the game changer, telling myself that perhaps I just hadn't found the right environment yet. I thought it wasn't my lack of passion for teaching that was the problem, it was that I hadn't found the right school for the long term.
The fact that even at this school, when things couldn't have been going better, I still felt the same way, meant to me that there was nothing that was going to change my feelings about teaching as a career path.
4. How did you go about deciding what you wanted to do next/instead? What helped you make that decision?
When I wasn't at work, my time was spent tasting, reading about and studying wine. I'd had a bit of a 'Damascus Road' experience on my honeymoon several years prior at a small bar where I'd had a wine tasting experience and caught the bug.
I feared that when I stopped playing music, which had been a huge passion from a young age, that I wouldn't find anything I felt that way about.
I fell in love with wine, so when considering the career change, I knew this was the environment I wanted to be in.
5. What new career path have you chosen?
I launched my own wine business, Barrique Fine Wines, in January. We're an independent wine importer, wholesaler and retailer, and we are currently doing virtual wine tasting events too, which are fun.
6. How are you going about or how did you go about changing careers?
Once I'd made the decision to change careers, I wrote to numerous wine merchants in the area. I had no experience but came with all the passion in the world.
I knew I needed to get qualified so I did my Levels 2 and 3 of the WSET qualifications (Wine and Sprits Education Trust) during my school summer holiday.
I then had a meeting with the one merchant who responded to my emails. It was shortly after that he wrote to me offering me a post to start in the following January in Sales. I was over the moon! I've always enjoyed working with people, so the Sales route felt a natural path to me. Being paid to be around wine all day felt too good to be true.
I made the decision last August to make the move into self-employment, eventually launching my own business in January. I'd worked for my previous company for four years but always envisaged being the master of my own destiny at some point. I feel I've always worked hard, and having learned a huge amount since joining the wine trade, it felt like the right time to do it.
I'd been encouraged by numerous friends who'd told me I was daft not to be doing it for myself - I guess it just took time building up the courage to do it. It took a huge amount of preparation, but once I'd made the decision, I put everything in to launching it.

My business partners are experienced and have built up very successful companies in their own right and we have a great relationship so I'm hopeful we can build a really successful business.
7. What's been the hardest, most challenging, or unexpected thing you've encountered about changing career?
Certainly the financial implications were hard to adapt to. The career change meant cutting my salary in half, which was the equivalent to what I was being paid when working for a Church in London thirteen years earlier - my first job post-university! But I made it work.
It was also all very new - I'd done a little work in Sales but not much. From being in an environment in which every breath you took, you needed to account for, to having some real autonomy in my role took some adjusting to. Being trusted to do your job was a strange sensation coming from state education!
I was managing my own diary, and the role wasn't office-based. Much of it was out on the road meeting with existing or prospective clients, which took a new level of self discipline I hadn't required before.
8. What's been the best part about changing career?
I love my work! That's not to say I love every part of my working day though - of course there are parts that are arduous and mundane. But I feel an enormous passion for the work that I do, because I love what it's about - wine.
To be working in an environment, which I chose to be involved in as a hobby previously, is a privilege and something I don't take for granted.
I've had the opportunity to further my studies, completing my WSET Diploma, which I really enjoyed.
I've met some incredible people, built relationships with clients and suppliers who have become friends, eaten in some phenomenal restaurants, and tasted some incredible bottles along the way!
I've learned a huge amount about the wine business, and launching my own company will bring another set of challenges, especially in the middle of a pandemic!
9. What advice would you give to others considering or going through a career change?
I would advise them to do it if they're going to enjoy what they do and feel passionate about it. We spend more time working than we do anything else - surely that has to be an experience which you feel passionate about?
It's not easy though, and I don't have children, which makes the weight of that decision easier, but I certainly needed an incredibly supportive wife, which I'm lucky to have.
10. What support, help, or resources would you recommend?
That's a difficult question, as, to be honest, I didn't really use any. I think that's because I had a very clear idea of what I wanted to do when I decided to leave teaching. But if I hadn't then I would have absolutely approached a Career Coach.
I have friends who I know are not happy in their work, but don't have an obvious path to follow and I can imagine that's tough.
I think the only thing you can do is assess what you enjoy, or try different things, which you think you might enjoy.
Wine was a complete accident for me. I certainly didn't anticipate a wine tasting event in a wine bar in Dubrovnik changing my life! I guess you don't know unless you try.
Recently, I've read a book called 'Grit' by Angela Duckworth, which I would throughly recommend to anyone considering a career change.
——
If you're considering a career change of your own, and Edd's story has inspired you to finally take action, get in touch to discuss how working with Alice could help you figure out what you want to do instead, and how you can make it a reality.