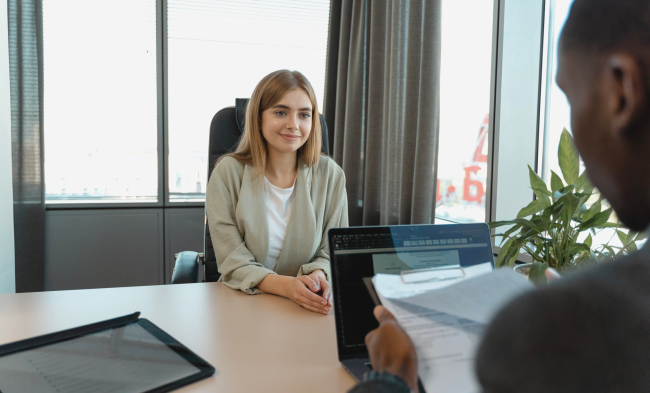 Like many others in today's workplace, you may be considering embarking on a new career. It's hard to know whether to make the change though. And, if you do, how will you know when is the right time to overcome your fears and make the switch? Read on for advice on a series of small steps to take as you start to transition away from one career and into a new one.
When to Consider a Career Move
Research shows that a fulfilling career can make you more productive and content, both of which carry additional benefits in turn. So, here are some signs that might prompt you to consider changing your career, and what to do about them:

Your passion is elsewhere: You may be harbouring a dream of doing what you love. Perhaps you've been imagining your ideal career for many years now, and it's not the one you're in. Maybe you have a hobby or side hustle you'd love to make more of. Turn your passion into a career by focusing your energy on it by following these tips for achieving a fulfilling career.


You're unhappy: If you've been unhappy for a while, and it is affecting other areas of your life, it might be time to change your career. You might be unhappy due to work pressure, long hours, a toxic culture, or your role lacking purpose. Either way, pursuing a career with more favourable working conditions can improve your quality of life, and here's how to go about doing that.


You need a new challenge: If you no longer feel professionally challenged in your current job, consider moving on into something that will help you stretch yourself. You may only need to change company or industry for it to feel like a new challenge. Or, you may find that re-training, or completing further education, gives you that much needed sense of growth again.


Your career doesn't suit your circumstances: Maybe you've had a baby or your kids have started school and you now need more flexible working hours. Maybe you want to work anywhere in the world, and not be tied to an office. Some jobs and careers are more flexible than others. Perhaps consider a change into something that might fit round your circumstances, whether that's being self-employed, or working for a company that supports and champions remote working or more flexible working patterns. There are more and more flexible working, remote, and part-time job board websites these days, too - have a look on Google Search.

So, based on the above, you've decided it's time to move on - now what? Here are a few tips to help you get started with your next career move:

1. Get Clear on What You Want
Before you can do any of the below, the first step is to get clear on what you really want in your next role/career. If you don't know what you're looking for, it is going to be very hard to narrow in on a role, company, industry, or sector with any real conviction or effectiveness. Consider your options - Is it a complete career change you're after? Is it the same role but in a different industry? Same industry but in a different role? Or both the same, but just elsewhere? If this is where, you're stuck, my career coaching programme can help you figure out which option is right for you.
2. Tailor Your CV
Once you've identified what you want next, and you start looking for work, examine the sorts of job descriptions for the roles you want to apply for in order to identify the specific skills and qualities employer seem to be looking for. Make sure to tailor each CV/application so that it mentions and demonstrates the skills and strengths the employer is looking for. You can work in Google docs, and you can save or email a PDF version of your Google Doc if needs be, as PDFs are more secure and ideal for sharing work-related information.
3. Update Your LinkedIn Profile
Once you're clear you want to move on, update your LinkedIn profile to let companies know you're seeking employment (bearing in mind that colleagues may be able to see this update). As with your CV, tailor your profile to take into account the common key words, skills and qualities often used in the job descriptions you've seen so far. Connect with recruiters in the space you're keen to move into, as well as professionals in the roles you're looking for - perhaps seeking their advice on how to make the move yourself. Follow the companies you'd love to work for in order to keep on top of relevant news, share relevant articles with your network, and consistently post updates to demonstrate your enthusiasm and knowledge to prospective employers, too.
4. Start Your Own Business
If you've come to the conclusion that simply changing one job for another is just not enough, you could consider starting your own business and entering the world of entrepreneurship. Many are attracted to this option due to the autonomy and flexibility that self-employment offers. One example would be to consider setting up a limited company, as advantages include limited liability, less documentation required, management flexibility, and the ability to use the best tax strategy for your circumstances. Be sure to research local requirements before starting out though.
5. Tell Everyone
Many clients have told me that once they started to tell their friends and family what they were now looking for, connections and introductions started to materialise, which really helped them with their next career move. If you keep your goals to yourself, no one can offer their assistance, advice, or open you up to their relevant and helpful network. Once you're clear on what you're after, be sure to tell as many people as possible.
If you're unclear on what you want next from your career, I offer a 12-session career coaching process which helps you figure this out, providing you with clarity, focus, and direction for your future. Contact me to find out more.
*This article may contain affiliate and sponsored links.